In Idaho, small business is big business. Here in the Senate, I am committed to working to deliver relief to Idaho's small businesses so that we can get back on the path to recapturing the unprecedented prosperity our economy provided before this crisis began.
Risch Welcomes Reviewing Judge Amy Coney Barrett's Nomination to the Supreme Court
President Donald Trump has nominated Seventh Circuit Judge Amy Coney Barrett to serve as Associate Justice of the United States Supreme Court. This week, I had the opportunity to meet with Judge Barrett to discuss her legal philosophy and credentials to serve on the highest court. Her respect for and defense of the U.S. Constitution makes her an exceptional nominee to serve as an Associate Justice to the Supreme Court.
I took an oath to uphold the U.S. Constitution and will weigh Judge Barrett based on her character, intellect, and conservative record – not on whether there's an election coming up.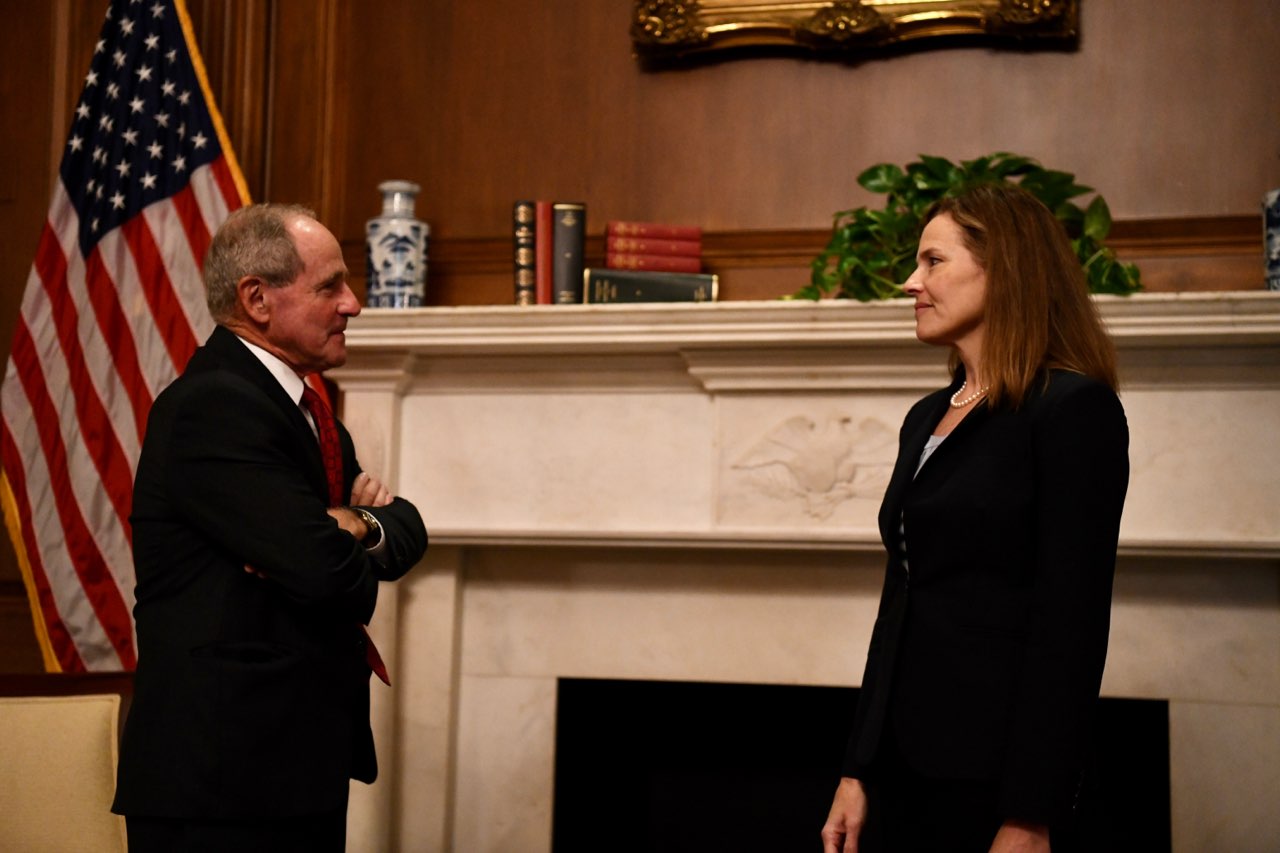 Risch Joins Landmark Legislation to Prevent Catastrophic Wildfires
Years of insufficient forest management have turned the West into a tinderbox, evidenced by this year's devastating wildfires. While we cannot control each lightning strike or wind change, we can change the ways we manage our forests to prevent the 2020 fire season from becoming the new normal.

In September, Senator Mike Crapo and I joined landmark bipartisan legislation to increase active management of federal forests. The Emergency Wildfire and Public Safety Act of 2020 will improve the long-term health and viability of Idaho's forests and protect the communities that call our forestland home.
By U.S. Senator Jim Risch
While the world has been rightly focused on containing the COVID-19 pandemic that originated in Wuhan, China, the Chinese Communist Party (CCP) has taken the opportunity to become increasingly belligerent on the international stage. In just a few short months, the CCP has voided Hong Kong's autonomy guaranteed by an international treaty, expanded its internment of Uyghurs Muslims in western China, and engaged in an aggressive campaign to sow false information in response to the legitimate criticism the CCP has received for its role in the COVID-19 pandemic. China's communist leadership is actively working to impose its interests on the world, and with each passing month, it becomes an increasingly serious and grave threat to democratic societies everywhere. They must be stopped and we must be the ones to lead it.

China is the single most significant threat facing the United States, and we must act swiftly to protect our sovereignty and push back against China's increasingly dangerous conduct. Last month, I proposed the first comprehensive bill to put us on a stronger path to compete with China. The STRATEGIC Act will introduce tough new measures aimed at leveling the playing field to safeguard American interests and strengthen and sustain U.S. leadership for decades to come.

Click here to keep reading.
Democrats Block Additional COVID-19 Relief Funding
In September, I voted in favor of the Targeted COVID-19 Relief Package that would have provided coronavirus relief funding to American families, schools, small businesses and health care workers. Unfortunately, Democrats blocked the bill. Had it passed, this bill would have:
Allowed states to extend $300 per week in additional unemployment benefits.
Authorized another round of the Paycheck Protection Program for Idaho's small businesses.
Provided assistance to Idaho's farmers and ranchers.
Supported enhanced testing, contact tracing, vaccine development, and therapeutics.
Idahoans deserve better that Washington, D.C.'s partisan politics, and I will keep working to ensure Idaho's workers, families, and business owners can get the assistance they need.
Risch Hosts Tele-Town Hall to Hear from Idahoans
In August, I hosted a live telephone-town hall with nearly 13,000 Idahoans where I answered questions about the national debt, support for healthcare workers on the front lines of the pandemic, and much more. One question came from a constituent who expressed his concerns about the aggressive pursuits of China, prompting a great discussion about how the importance of a strong strategy to counter China and protect U.S. interests.

Thank you to those of you who joined the call and asked tough and thoughtful questions. To join a future telephone town hall, you can sign up for notifications at www.risch.senate.gov.
After a meeting with the Bonneville County Sheriff's Office in Idaho Falls, I had the opportunity to socially distance with Nate Eaton from East Idaho News to discuss the ongoing situation with COVID, the United States Postal Service, China, and the 2020 Presidential Election.

Click here to watch the full interview on the East Idaho News website.
To receive email updates on what I'm working on as your senator, click here.
To connect with me on Twitter, visit @SenatorRisch.
To connect with me on Facebook, visit @SenatorJimRisch.